JRC is a leading global manufacturer of marine electronics, specializing in the design and manufacture of products that meet industry needs.



The JSS-2150/2250/2500 MF/HF Class A DSC radio equipment features an intuitive user interface and advanced modular design that allows for a flexible installation approach.
Yokogawa Denshikiki is engaged in the development, design, production, and marketing of high-precision and high-quality…


Danelec Marine designs, develops and manufactures products which are solid, safe and simple. There is always a service tech near your ship.
MRC, Inc. (MRC) was established by Eui Joong Hwang (1927-2016) in 1961 in Busan, Korea. MRC manufactures internal communication…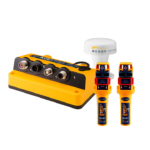 Ocean Signal® specialises in the development and manufacture of Advanced Communication and Safety Products for the marine market.
The ballast water treatment system BIO-SEA combines mechanical filtration and high UV dose disinfection, without any…
Since their introduction in 1982, ComNav Autopilots have gained a reputation for top performance and reliability…
Ocean Clean is specialized in the development, production and distribution of innovative products…
Since their introduction in 1982, ComNav Autopilots have gained a reputation for top performance and reliability…
Synectics designs integrated end-to-end surveillance control systems for the world's most demanding security environments.
Building for the future from a proven track record. Coldharbour Marine Limited, based in the UK, can trace its origins back more than 35 years.
Cold The Markleen Group is a leading manufacturer of oil spill response equipment. We supply all-inclusive packages specially…


The world's most advanced satellite antenna systems are the result of a deep commitment to providing our customers with robust and reliable solutions.
Over 30 years experience on Navigation Equipments makes SEIWA as one of the most well-known OEM in the world in Marine Marketplace. SEIWA Marine Electronics produces Electronic Navigation Instruments since 1984.


Motorola Solutions connects people through technology. Public safety and commercial customers around the world turn to Motorola Solutions innovations when they want highly connected teams that have the information they need throughout their workdays and in the moments that matter most to them.
Koden, which enjoys a worldwide reputation throughout the seas, will continue to be on the leading edge of marine electronics in the future.
Raytheon Anschütz offers a wide range of Navigation Systems – starting with Anschütz Gyro Compass and Autopilots, through Radars